The eye contour requires a specific product and different care to the rest of the face.  
The skin around the eyes is four times thinner than the skin on the rest of your face and it is also more susceptible to factors such as time, tiredness, stress or pollution. 

Effective eye contour
The eyes are one of the areas we use most for expressions and one of the most sensitive. They tend to be forgotten in beauty routines. They suffer most as a result of their delicate nature and as they are one of the areas that is most exposed to thick and colourful makeup. The skin of the eye contour is the thinnest on the body and it needs special care.
It's a good idea to start using a moisturising eye contour for this area when the first wrinkles and expression lines appear. So that it is more effective, it should include ingredients such as collagen or hyaluronic acid, which will reduce and prevent the appearance of these initial signs of ageing.
As the years go by, this area becomes a constant concern, especially if it has not been treated before. Wrinkles and the despised crow's feet are more marked, and eye bags may even appear due to liquid retention. At this age, you should look for stronger active ingredients that firm, reduce wrinkles and nourish the area. Peptides are some of the most effective.

Eye contour with natural active ingredients
The anti-wrinkle eye contours by Armonía are formulated with various natural active ingredients with a freshening and decongesting effect that penetrate and tone the eye area.
The ingredients to look for in an eye contour are decongesting and refreshing ingredients such as seaweed which, thanks to its high trace element content, facilitates the diffusion of fats and water. It also has detoxifying, moisturising and nourishing properties.
Olive extract, with its high polyphenol and vitamin E content, has a powerful antioxidant effect, strengthening the sensitive skin around the eyes.
There are very powerful natural active ingredients for formulating anti-wrinkle eye contours that reduce wrinkles while firming the face, such as the "botox like" tripeptide that acts by inhibiting muscle contractions and nourishes and protects thanks to argan oil and shea butter.
Natural Face Creams
The face creams contain 100% natural and organic active ingredients, organic vegetable oils, floral waters and other organic ingredients, some of which are from small producers or agricultural associations.
NATURAL FACE CREAMS
Face Oil
The line of face oils by Armonía includes three 100% plant-based facial treatments designed to meet the specific needs of the skin: they soothe, nourish and add radiance.
FACE OIL
Face Mask
Face masks formulated with natural ingredients that repair the skin's barrier function, cleanse the dermis and boost hydration and nutrition.
FACE MASK
Lip Balm
Get soft and irresistible lips with our lip balm. Lip balms with nourishing active ingredients to regenerate the skin. Available in three aromas.
LIP BALM
Skin-friendly eye contour cream
The skin of the eye contour tends to be the one that ages first; the epidermis is very thin and the dermis is very elastic, which means that the first wrinkles can appear even at a very young age.
A lack of sleep is also a factor to take into account. If you do not get enough rest, the area below the eyes can become puffy and congested.
From a young age, we recommend using an eye contour cream with proven effectiveness that is suitable for all skin types, especially sensitive skin. Products with regenerating properties that help in the formation of collagen and elastin.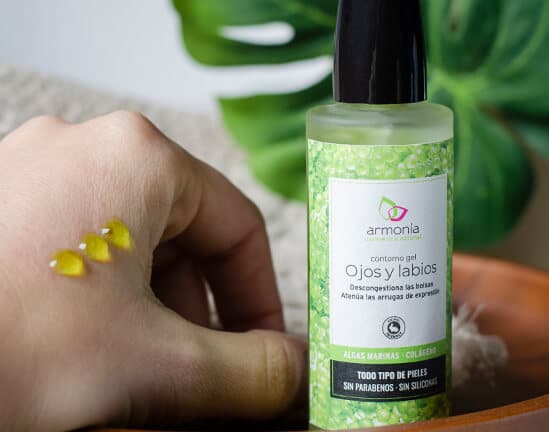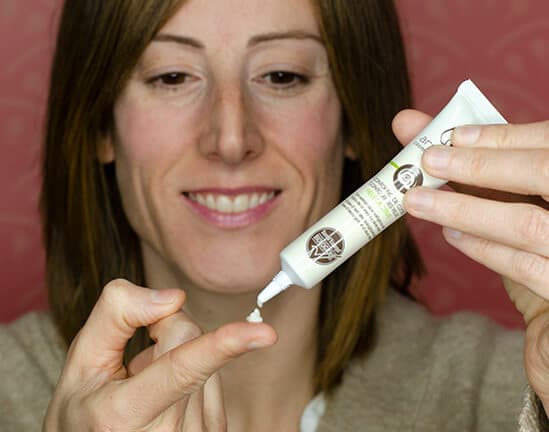 Eye contour suitable for men and women
Small wrinkles around the eyes, bags and dark circles are also the first signs of ageing in men.
Prevention is very important to improve the first wrinkles in the area. It is very important to be consistent and, since they are quick and simple to apply, they can be easily incorporated into the male beauty routine.
The eye contours by Armonía are suitable for men, and applying them once or twice a day will help to combat signs of ageing in this delicate part of the face.