The line of face oils by Armonía includes three 100% plant-based facial treatments designed to meet the specific needs of the skin: they soothe, nourish and add radiance. 
Their formula, which is suitable for vegans and coeliacs, is based on a combination of carefully selected oils and is enriched with active ingredients that strengthen the effect of each treatment: soothing, brightening and nourishing.

Natural 100% plant-based face oils
Studies show that, despite appearances to the contrary, these dry-touch oils can have a great balancing effect on the skin. Moreover, the concentration of their ingredients gives them a more powerful hydrating and anti-wrinkle effect than some creams and means that they can even regulate excess sebum.
They are multi-action dry face oils, and since they are formulated using natural ingredients, they tend to have different properties. The three oils that make up the range include common ingredients with proven efficacy: squalane, tocopherol, jojoba oil, macadamia oil and phytosterols.

Dermatologically-tested face oils
LThese face oils do not make the skin greasy. They are light, spreadable, dry-touch oils that are quickly and easily absorbed, leaving the skin smooth and silky.
The range of natural face oils contains organic ingredients and their active ingredients are extracted using methods that do not alter their natural composition or properties.
They protect the skin and are non-aggressive. They protect from different external aggressions. Each has been dermatologically tested for all skin types, even the most sensitive. Three plant-based infused oils that are personalised for different skin types (dry, oily and sensitive), depending on their composition.
Natural Facial Creams
The face creams contain 100% natural and organic active ingredients, organic vegetable oils, floral waters and other organic ingredients, some of which are from small producers or agricultural associations.
NATURAL FACE CREAMS
Face Mask
Face masks formulated with natural ingredients that repair the skin's barrier function, cleanse the dermis and boost hydration and nutrition.
FACE MASK
Facial Serum
Facial serum is a treatment that complements the rest of your beauty routine and boosts the effect of beauty treatments applied afterwards.
FACIAL SERUM
Body oils
Body oils for daily use that hydrate and nourish the skin and give it a pleasant feeling of softness with light scented touches.
BODY OILS
Non-comedogenic face oils
When using a face oil, it is important to choose the right product, ensuring that it is non-comedogenic and does not cause comedones or dirt in the pores of the skin.
The face oils by Armonía are non-comedogenic and cause 0% skin irritation. Their texture does not block the pores and they have been dermatologically tested on oily skin.
They are 100% plant based so are suitable for vegans. They all contain organic ingredients. Likewise, they are all plant oils that have been extracted using methods that do not alter their natural composition or properties.
They protect the skin and are non-aggressive. They protect against different external aggressions.
They are moisturising oils. They prevent dehydration and help prevent water from evaporating from the skin.
They are free from parabens, silicone, paraffin, dyes and gluten (suitable for vegans and coeliacs).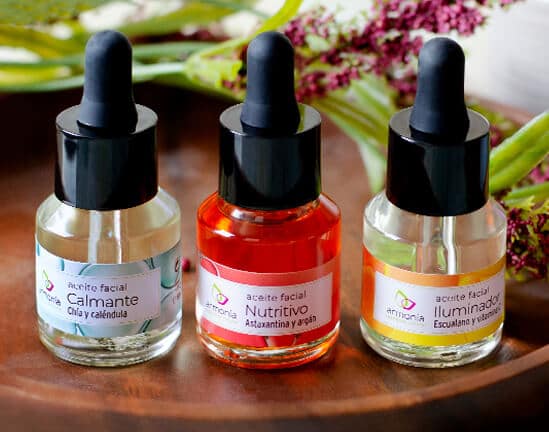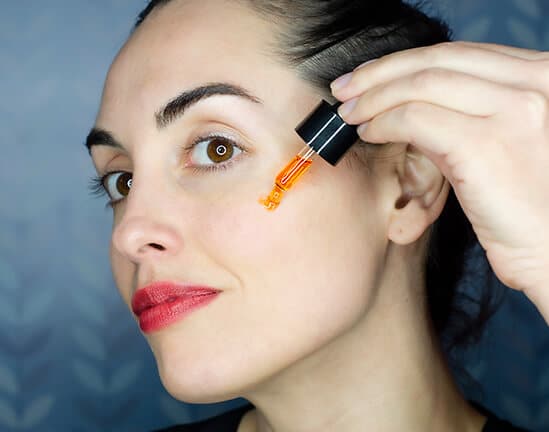 Recommended use for face oils
The main advantage of these face oils is that the lipids of our skin are highly compatible with the lipids contained within them, which means that they absorb quickly and strengthen and promote the skin barrier.
The nourishing face oil is an anti-wrinkle oil for those with dry and dehydrated skin who need a nourishing boost. It is the ideal oil to achieve smooth, hydrated skin with great vitality. It improves and evens the texture of the skin and it also helps combat signs of ageing.
The soothing face oil is recommended for skin that is red, irritated and flaky. It can be used at any time of day, whenever your skin needs it.
The brightening oil balances oily skin. Some people believe that oil is not suitable for oily skin, and this is a mistake; what's important is choosing a non-comedogenic oil that is easily absorbed.