Body oils are a great ally to keep your skin in a perfect condition, balance it and strengthen the barrier function. 
Body oils for daily use that hydrate and nourish the skin and give it a pleasant feeling of softness with light scented touches.


Natural body oils
Olive, sweet almond... our oils are produced using the natural treasures of the Mediterranean and made of natural, skin-friendly ingredients that nourish in depth.
The natural body oils by Armonía are formulated with traditional restorative oils and they include organic ingredients such as sesame oil and argan oil.
These are plant-based oils obtained from cold pressing the seeds and, unlike essential oils, they produce a better skin reaction. They are vegan and silicone free.

Discover the benefits of oil for your skin
Oil is naturally present on our skin. It is our body's response to combat external aggressions such as cold in the winter or lack of hydration in the summer.
Moreover, using oils to hydrate the skin helps to blur stretch marks and scars and, in some cases, reduce the appearance of cellulite. Oils smooth the skin and make it more radiant and, thanks to their fragrance, give a pleasant feeling of comfort that helps us relax.
The skin oils can take a little more work to apply, as they need to be massaged in well, but in the long run this improves the appearance of the skin, improves circulation and allows the active ingredients to penetrate better.
Body Moisturiser
Body moisturisers with different textures, made of natural products and paraben-free for nourished skin.
BODY MOISTURISER
Natural Shampoos
Aloe vera, camomile, lemon balm, onion and clay are some of the active ingredients included in the formulas of Armonía natural shampoos, and they ensure clean, soft and healthy hair.
NATURAL SHAMPOOS
Personal Hygiene
Discover our range of products for personal hygiene. Shower gels and intimate gels made of natural and skin-friendly active ingredients.
PERSONAL HYGIENE
Face Oil
The line of face oils by Armonía includes three 100% plant-based facial treatments designed to meet the specific needs of the skin: they soothe, nourish and add radiance.
FACE OIL
Firming and moisturising oils
Just like the skin of the face, it is important to keep the skin of the body well nourished and hydrated, since this simple act will help keep it firmer and younger looking.
Often, what makes the anti-cellulite or firming creams we find in the supermarket effective, beyond specific active ingredients, is consistent application.
If you want your skin to look nicer and firmer, our first piece of advice is to pamper and moisturise it every day, and body oils are great for this.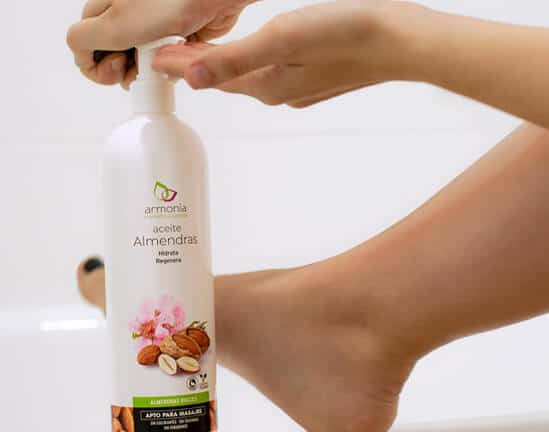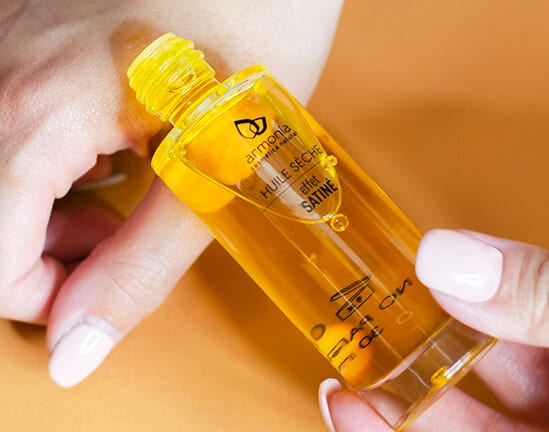 Dry body oils and massage oils
When choosing a body oil, you must take into account what you will use it for and how you would like it to feel on your skin. A dry-touch, rapid-absorbing beauty oil is not the same as a massage oil, which is oilier and needs to spread easily over the skin.
In the range of body oils by Armonía, you can find two types:
Mediterranean oils, which are dry, non-greasy, quick-absorbing oils that give a smooth finish without excessive shine. This body oil is perfect to give your skin a satin finish and envelope you in its gentle fragrance with elegant fruity, acidic and fresh notes. You can find it in two different finishes: with and without golden micro-particles.
Our sweet almond moisturising body cream is perfect for massages and to deeply nourish the skin after a shower or before going to bed. It helps to regenerate the skin, leaving it soft and renewed.